Welcome to Warm Fuzzies Pet Portraits by Dawn Bushong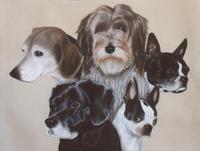 A Warm Fuzzies Pet Portrait is a wonderful way to embrace a moment in the lives of the animals we love, even if they may be gone. Using your choice of graphite pencils, pastels, watercolors, or acrylics, I will capture the spirit and likeness of your special pet - be it a cat, dog, horse, bird, rabbit, or any other animal - in a portrait that you will be certain to treasure.
A Lifelike Portrait of Your Pet...
The Perfect Gift, A Treasured Memory
Pet portraits make terrific gifts for any occasion, and are sure to be cherished for years to come. Give that special someone a gift certificate and allow them to decide on all the details that will make their pet portrait perfect.
Please browse the Pet Portrait Gallery by selecting one of the pet types below.